Shakira is a divine inspiration behind an artist's forever muse and a poet's idea of the perfect woman! The three-time Grammy winner has captivated hearts across the world with dazzling hip movements and a voice that transcends genres and language barriers.
The most powerful woman in the Latin music industry is also an adorable mom, a generous humanitarian, and a compassionate human. All that with a 140 IQ! She is as rare as it gets!
Takeaways
Shakira is a petite woman of 5 ft 2 in or 1.57 m in height with a killer body weighing 121 pounds (55 kg).
At 46, this iconic woman has long brown locks falling down to her hips and glowing skin with spellbinding dark brown eyes and long lashes!
To honor Shakira's legacy, her hometown, Barranquilla, Colombia, installed a 16 ft statue in a park.
She has released more than 90 million records and is the recipient of top music honors, including three Grammy Awards and 12 Latin Grammy Awards.
Personal Information of Shakira
Full Name: Shakira Isabel Mebarak Ripoll
Nickname: Shak, Shaki, Shakira
Birth Date: 2 February 1977
Birthplace: Barranquilla, Colombia
Zodiac Sign: Aquarius
Religion: Catholic
Father: William Mebarak Chadid
Mother: Nidia Ripoll Torrado
Siblings: Tonino (Half-Brother); Patricia (Half-Sister); Ana (Half-Sister); Robin (Half-Brother); Alberto (Half-Brother); Jose (Half-Brother); Moises (Half-Brother); Lucy (Half-sister); Edward (Half-brother)
Children: Milan Piqué (Son); Sasha Piqué (Son)
How Tall is Shakira?
Shakira, the queen of Latin music, stands tall at 5 ft 2 in or 1.57 m but is clearly more than her height. She got the world grooving on the beats of her first popular single, Whenever, Wherever!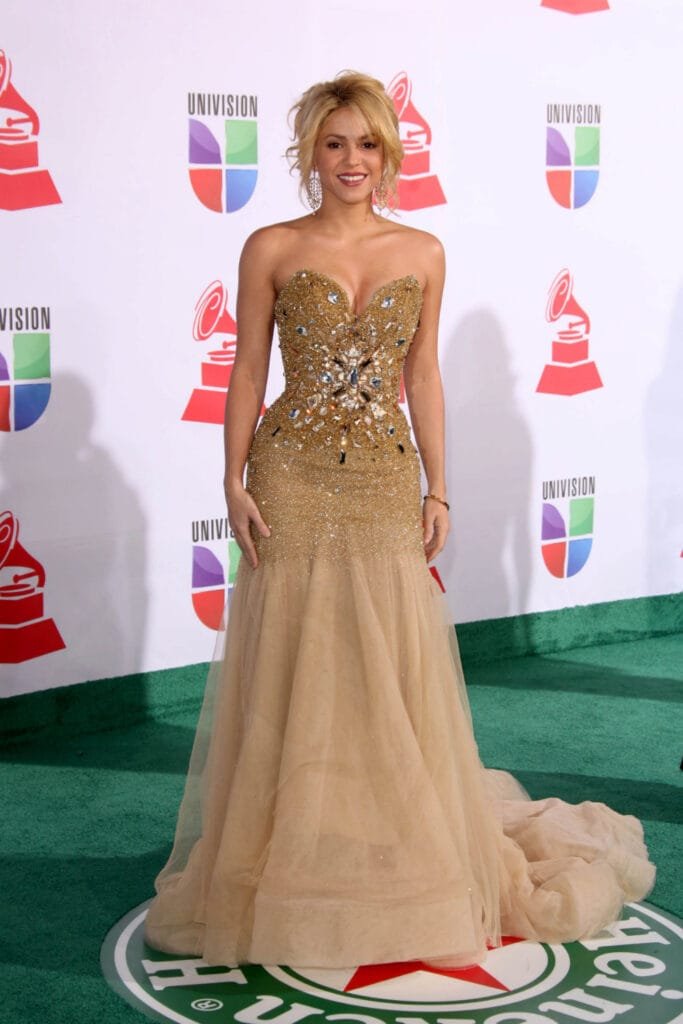 How Much Does Shakira Weigh?
The breathtaking performer has got her fans to wonder about the secret to her youthful exuberance, which clearly lies in her passion for dance. Hips Don't Lie stunner Shakira weighs 121 pounds (55 kg) in her 40s but doesn't look beyond her 30s.
The Colombian beauty is also active in the gym with her workouts and other body movements, including swimming, skateboarding, and surfing. No wonder she is so sprightly on and off-camera!
Shakira's Body Measurements and Impressive Bosom
Whether it's cover shoots, TV appearances, or music videos, Shakira knows how to magnetize her audience with her estimated body measurements of 86.3-60.9-89 cm or 34-25-35 in.
And Shakira's beguiling assets, with a possible bra size 32B and cup size B, may have a lot to do with her gentle yet strong personality! Look how her sensual appeal in a figure-hugging short golden dress overshadows the ravishing Karol G in TQG!
Shakira's Dress Size and Shoe Size
One of the best-selling artists of all time, Shakira is the kind of woman who'd walk into a room and have all the eyes on her! That's how bewitching she is, thanks to her dress size of 6 (US) or 10 (UK).
The dancing diva, with shoe size 7 (US) or 5 (UK), uniquely presents her shoe choices. So, high heels for shoots, bare feet for dancing, and boots for mopping, this is our adorable little Shakira for you!
Shakira's Eyes, Hair, and Physical Features
Those who have ever had the pleasure of beholding Shakira's extraordinary features know how captivating she truly is! This Colombian beauty has a heart-shaped face that shines through her inner beauty and vivacious spirit.
Shakira's dark brown eyes captured the audience's attention from her first-ever tour in 1996 with their natural spark encompassing kindness and love for all beings.
And oh, her long, beautiful light brown hair with blonde highlights is to die for and adds an ethereal touch to her personality. She can style her luscious locks in curls, keep them straight, or bouncy waves.
Height: 5 ft 2 in or 1.57 m
Weight: 121 pounds (55 kg)
Body Measurements: 86.3-60.9-89 cm or 34-25-35 in
Body Type: Slim
Breast Size: 34 inches
Bra Size: 32B
Cup Size: B
Dress Size: 6 (US) or 38 (EU) or 10 (UK)
Shoe Size: 7 (US) or 37.5 (EU) or 5 (UK)
Eyes Color: Dark Brown
Hair Color: Light Brown with Blonde Highlights
Face Shape: Heart
Shakira's Hobbies and Interests
The multi-talented artist is also pretty popular amongst her peers and fans for trying out new things now and then. It is also a way to spend some quality time with her family.
Hobbies: Swimming, Working out, Dancing, Skateboarding, Surfboarding, Selfies
Interests: Photography, Fitness, Pets, Travel, Photography, Fashion
Shakira's Iconic Career – Highlights
Shakira made her music debut as young as 13 but earned commercial success with her fifth album, Laundry Service, selling over 12 million copies worldwide.
The single, Whenever, Wherever, really helped her reach an international audience and would soon become a global sensation.
Her Spanish albums, like Fijación Oral, Vol. 1, and El Dorado, went diamond, while English albums, including She Wolf and Shakira, were certified as multi-platinum.
The yodeling queen with a contralto vocal range has released 11 studio albums with several collaborations and covers. Some of her super hit songs include Underneath Your Clothes, La Tortura, Can't Remember to Forget You, Hips Don't Lie, Loca, and Beautiful Liar.
Shakira is one of the most dynamic Latin performers of all time, with over 95 million records worldwide.
Apart from chart-topping numbers, Shakira soared in popularity with distinctive belly-dancing skills in MVs and live performances.
The charismatic woman is honored with several prestigious honors, including three Grammy Awards, seven Billboards, 12 Latin Grammy Awards, 29 Guinness World Records, a Hollywood Star of Fame, and more!
Shakira is also Billboard's Top Female Artist of the Decade, Latin Recording Academy Person of the Year, and Harvard Foundation's 2011 Artist of the Year.
What is Shakira's Net Worth?
With an extraordinary ability to deliver chart-topping hits, sold-out tours, and hot brand deals, the international pop star, Shakira, enjoys an estimated net worth of $300 million in 2023. She is expensive!
Shakira's Other Business Ventures
Besides music, Shakira has ventured into several businesses, including apparel, fragrance, philanthropy, beauty line, and more. She runs her online store of apparel and has released around 30 best-selling perfumes.
Shakira also launched her own beauty line named S by Shakira with Puig. In philanthropy, she founded the Pies Descalzos Foundation (Barefoot Foundation), a Colombian charity to support poor children.
She was also the co-creator of the dance reality show, Dancing with Myself, and played Gazelle in the hit animated film Zootopia. The alluring lady was also seen in TV series like Ugly Betty and The Voice.
How old is Shakira?
Shakira is thriving at the age of 46, as she was born on February 2, 1977.
Where is Shakira from?
Shakira was born and raised in Barranquilla, Colombia.
Who is Shakira married to?
Shakira has never been married but has two sons with Spanish football player Gerard Piqué, her ex-boyfriend.
What is Shakira's ethnicity?
Shakira comes from Colombian and Lebanese descent.
How many languages does Shakira speak?
Shakira, with her high IQ, speaks at least six languages, including English, Spanish, Italian, French, Arabic, and Portuguese.
What is Shakira's real name?
Shakira's real name is Shakira Isabel Mebarak Ripoll.
When did Shakira start singing?
Shakira wrote her first poem at four and recorded her first song when she was 13.
Who was Shakira's first husband?
Shakira has never been married, but her first confirmed affair was with Argentine lawyer, Antonio de la Rúa. But she was recently in the news for separating from her boyfriend of 11 years, Spanish football player Gerard Piqué.
Does Shakira have siblings?
Shakira is the only child of her parents, but she has eight half-siblings from her father's previous marriage.
With titles like the Titan of Latin Pop and the crossover phenom coming her way, Shakira's shining legacy is certain to inspire generations to come. Just like her, singer and songwriter Nicole Scherzinger, too, is a living legend.